ceramic veneers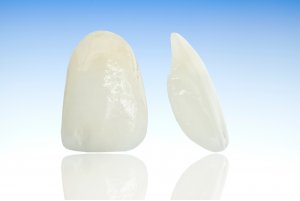 FULL-CERAMIC VENEERS
A full-ceramic veneer, that is a prosthetic restoration which reconstructs the front (labial) part of a tooth, is made entirely from porcelain, without any metal base or framework, giving beautiful aesthetic effects.
It is the easiest way to gain stunning and bright smile. Thanks to ceramic veneers, it is possible to change the shape of the teeth, lengthen them or enlarge and in the end provide the Patient with a smile he/she has always dreamt about. The biggest advantage of veneers is that the dentist has to prepare the teeth only in a minimal way, because a veneer's thickness is only about 0,8 mm, thus the interference in the teeth hard tissues is absolutely slight.
The making of full-ceramic veneers is a two step procedure. During the first visit, the doctor examines the color of the Patient's teeth and pictures the final effect. Then the doctor takes teeth impressions, prepares teeth surface, and puts temporary veneers on the teeth.
The veneers are prepared by the technician and during the second visit they are permanently cemented to the Patient's teeth.
Veneers are recommended for Patients with following problems:
unaesthetic front teeth fillings
defects or crushes of teeth cutting edge
Patient's discontent with his/her front teeth
teeth stains which cannot be whiten
imperfect dentinogenesis or enamel hypoplasia
Do you have any questions about treatment?
or call us now: