Sedation dentistry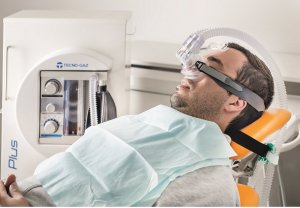 Master Flux AS 3000 Plus TECNOGAZ
Sedation machine with automatic flow control.
The Master Flux automatic is the only sedation machine entirely researched and developed in Italy.
All parts are manufactured by Tecno-Gaz and undergo scrupulous individual inspection. To prevent the machine from having a negative visual and psychological impact on the patient, it has been placed in an elegant unit with the capacity to contain the oxygen and nitrous oxide bottles and their relative reducers and attachments. The unit is painted RAL 9002 white, is equipped with wheels and laminated instrument tray and has a compartment to house 5-10 litre gas bottles.
On the front there is a space for the flow control box, complete with accessories. Master Flux Plus has passed the stability tests laid down by EN 60204 directives.
The Master Flux flow control box is a sophisticated mechanical engineering concept with an automatic proportioning delivery system. A mechanical method was chosen because the gas management is "direct", i.e. not subordinated to other electronic or electrical "controllers". In this way we have obtained a highprecision, highly reliable, user-friendly product. Easy to use, the Master Flux has technical features that make it extremely versatile, with efficacious safety devices that do not permit errors, hence safeguarding the safety of the patient. The serigraphed drawing is simple and easy to interpret.
Safety devices
• Cuts off the N2O flow when the O2 pressure is zero (no oxygen)
• Minimum oxygen concentration. There is always a percentage of 30% oxygen present, thereby safeguarding against the risk of HYPOXIA and ANOXIA.
• A special valve prevents expired gases from being recycled in the circuit. Additionally, a special device enables the patient to breathe ambient air in the event of a gas failure.
O2 Emergency
When we press the O2 device, we cut off the flow of N2O, delivering 100% oxygen both to the control balloon and to the patient being treated.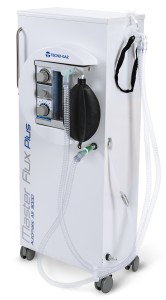 Automatic flow control
The system has been designed to make the flow administration quick and easy. Turning the O2 knob, we set the flow required by the patient in litres per minute, depending on his/her respiratory volume. The special regulation knob enables the percentage of nitrous oxide delivered to be automatically varied from 0 to 70%
Flow column
The columns indicating the flows have been designed for fast and easy reading.
Supply couplings
The couplings have been fitted on the back of the flow control box and their attachments are physically different in order to safeguard
against the risk of inverting the hoses for the two gases. Yet another precaution to guarantee safety in the use of the machine.
www.tecnogaz.com
Do you have any questions about treatment?
or call us now: